Domination as sex fantasy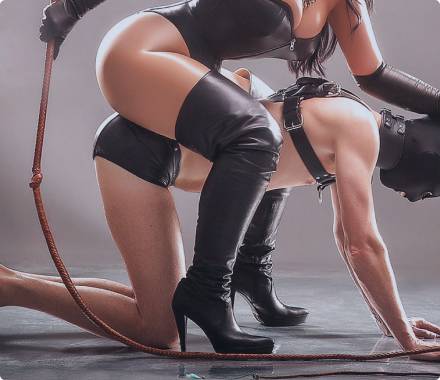 When we think about sex we also think about power. Some people get off on being in control and dominating the situation. BDSM is at the more extreme end of the spectrum for many people. During daily life our roles may be flexible depending on the context.
Our roles during sex may not reflect who we are in public, there's no correct answer – we are firmly in the "Whatever floats your boat" region of sexual behavior.
Domination and submission can't exist without each other. For every submissive there must be someone to dominate. It's not enough to put on the leather gimp suit and wave a whip around, there's got to be someone to threaten with it or to use it on.
Being a Dominant is a role played by those who enjoy controlling their sexual encounters. There are many ways to dominate a partner during sex that can include physical, mental or even verbal controls. Ultimately it comes down to the style that you and your submissive find most appealing.
Many people start with restraining their partners during sex to take control, others might enjoy giving someone a light spanking and find it gets them more excited than they expected. Once you start exploring the various facets of being dominant during sex you realize that it encompasses a wide variety of behaviors and activities that may not seem sexual at first.
True dominants enjoy the act of control over their submissive in areas of their life that may not even seem connected to intimacy. This goes way beyond the stereotype of the leather clad vixen spanking the older CEO who needs to let go of control once in a while.
Learn Before You Start Rather Than During A Scene
It's important to understand that distinction between being Dominant and taking control of someone physically and mentally and abuse because the dynamics of a D/s relationship can appear to mirror aspects of abuse – depending on your dynamic it may involve pain, ignoring pleas to stop, breath-play or the threat of violence.
With that in mind, it is imperative that you understand two critical things before embarking on anything more than a little light spanking or fluffy handcuff restraints: 1. Consent. 2. Safety.
Consent
Because of the types of play that are involved in a D/s scene it is critical that you have consent for any planned activity. That means negotiating and mapping out things with your submissive. That means having a game plan for what's going to occur from the start of the scene to the end. While it may seem to remove some of the spontaneity, you'll soon learn that it's a requirement for any safe play, especially as you start out experimenting as a Dominant.
It also helps you understand both you and your partners limits – yes both of you, as a dominant you may find you're more comfortable verbally humiliating someone than causing them pain or you might just be terrible with knots. So it's critically important to negotiate the scene, especially if you're playing with a new partner or just experimenting.
Given the state of the current legal landscape in many localities you may be putting yourself in a position with real world consequences beyond having to apologize to your partner if they are injured. Remember, during negotiation you're equal partners and either one of you can suggest or discard an idea if they feel it crosses their personal limit.
Also, remember to set safe words and non-verbal signals to halt any and all activity if one partner says it – that's right, either partner. There's plenty of reasons to stop a scene, from getting an important phone call to feeling uncomfortable with the flow of a scene, to your sub hitting a limit and not wanting to continue. Never violate the trust of a safe word. It is sacrosanct.
Which brings us to education. Before you get to the bedroom, or dungeon, with your partner get yourself educated. Being a bossy jerk isn't being dominant, and if you're with a sub who likes pain play it's not just beating them up.
Many of the actions you will take as a dominant has some risk of causing damage or injury if you do it wrong either mentally or physically, sometimes fatally so. If you want to tie up your sub make sure to learn how to tie and untie knots, understand the physical strain that certain positions will cause on the body. If you're into choking your sub be absolutely aware at all times of how to perform it safely and when to stop.
If pain is more your speed its imperative to be aware of the risks of injury from hitting someone. There's plenty of places to learn these skills online, from books and articles but if you expect to play hard you should consider joining your local kink community and getting guidance from someone who is experienced and can show you.
In the meantime, go slow and go gently. Depending on your subs tastes try obedience training and basic tasks first – they're safe and will help you develop a controlling mindset.
Tasks can be as simple as cleaning your shoes or kneeling in an uncomfortable position until you give permission for them to move. Yes, your sub may be begging you to beat her harder, choke her out or hang her from the ceiling but if you don't have the knowledge of how, or an understanding of the risks then it's not something you want to try learning on the job. Again, your partners safety is your primary concern, and your actions could end up with legal consequences if things go wrong.
Have A Plan In Your Mind You Can Effectively Articulate
I realize that's a lot of information. Taking control means thinking in a more ordered a disciplined way. That means building your scene flow after you've negotiated what is and isnt' acceptable. Think about what cue words and actions you'll demand your sub do. This is where you can be creative and develop the scenario and help execute the scene so it eventually builds to you both getting the result you want, whether that involves orgasms or not.
Always Demonstrate A Sense of Authority
Once the scene begins you are the only one in control. Your sub is now your plaything. At first it may seem strange to be in charge, especially if your daily life doesn't provide the opportunity to do. That's ok, it's totally normal to feel uncomfortable as you learn to build your confidence.
The key part of being dominant is having authority, that doesn't mean you need to raise your voice, or threaten (although that can be a very fun part of a scene), it does mean understanding that everything that happens is now up to you.
You control the tempo and intensity of every interaction and sensation. Enjoy feeling the power that your sub has given you and stick with your game plan. You're the one in charge, make sure your sub knows it.
Similar posts